Dolomites weather
Proposals for hikes and walks in the Dolomites
The weather today: thursday, 08 2022
High pressure conditions.
Sunny weather with clear sky, in the morning in the Puster valley some fog.
High temperatures between -2° and +5°.
The weather tomorrow: friday, 09 2022
The mountain weather today (Dolomites)
High pressure conditions.
Sunny weather with perfect visibility. Falling temperatures.
The mountain weather tomorrow (Dolomites)
Evolution weather in South Tyrol: Friday weak snowfall
On Friday cloudy sky with widespread snowfall, mainly during the forenoon. Saturday unstable conditions with some showers in the evening and in the following night. Snowline between 700 and 1000 m. Slightly weather improvement on Sunday. In the valleys mostly dry conditions, on the mountains light snowfall. Monday in the South sunny, in the North residual clouds. Cold and windy.
Tomorrow

T. max: -1 / 4 °C
T. min: -8 / 1 °C
saturday

T. max: 0 / 5 °C
T. min: -6 / 1 °C
sunnday

T. max: -2 / 6 °C
T. min: -5 / 1 °C
monday

T. max: -5 / 5 °C
T. min: -12 / -2 °C
tuesday
T. max: -5 / 5 °C
T. min: -12 / -2 °C
South Tyrol weather today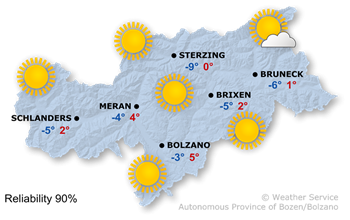 South Tyrol weather tomorrow
Update at 11:00 am
Source: © Weather Service Province Bolzano - South Tyrol